Blender 2.8 for beginners Sword creation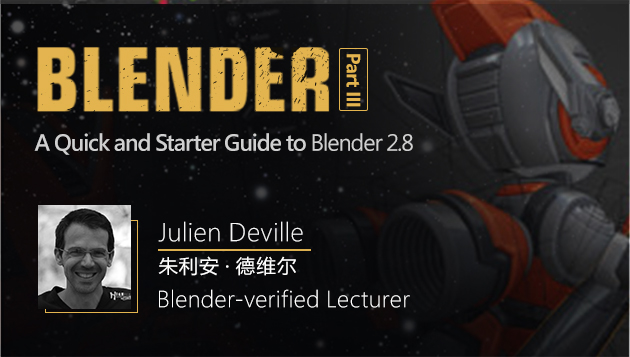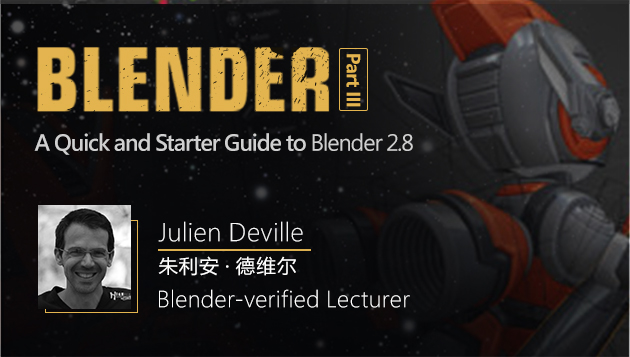 Blender 2.8 for beginners Sword creation
Blender 2.8 for beginners Sword creation
Blender 2.8 for beginners Sword creation
This case-based course is for how to use Blender. From the course, you will acquire a comprehensive range of knowledge including software interface, tools, modeling, digital sculpture, map baking and rendering.
This course is officially verified by Blender, the entitled "versatile 3D software". The training tutorials from the instructor consist of three courses, and this course is the third one. Specifically, this course lasts 8 hours and covers 36 sections.
Course Highlights: This course covers a broad spectrum of knowledge in Blender, ranging from software interface to tools operation. With case-based analysis, the instructor will elaborate on every point of knowledge.
Target Learners: Blender beginners, 3D beginners, 3D designers
This course covers 36 sections and lasts 8 hours.
You will acquire skills to apply Blender 2.8.
Facebook: Yiihuu Official Facebook | Irene | Alexa Xu
| Alex Luo | Sian | Cloris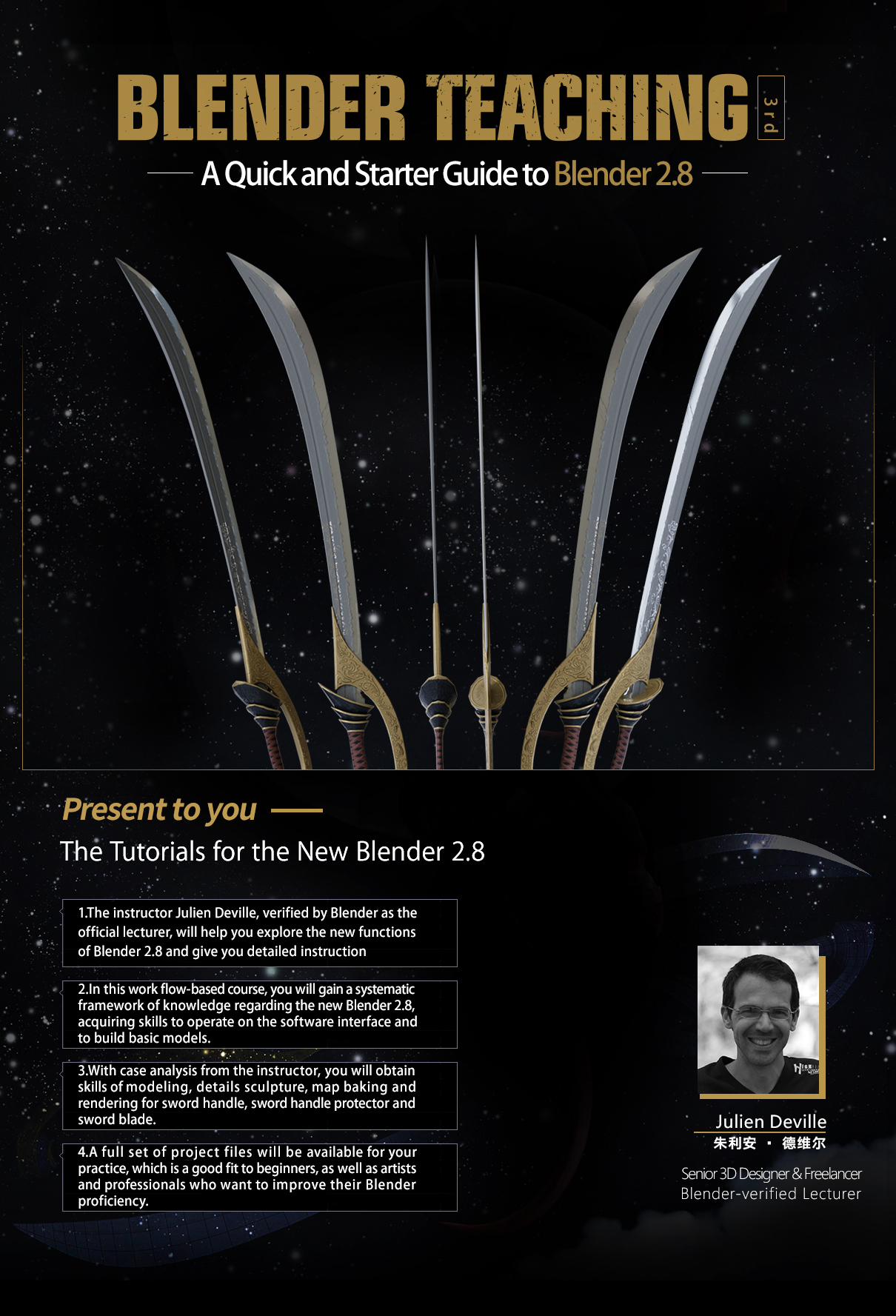 Blender: The Open-source, Cross-platform and Versatile 3D Software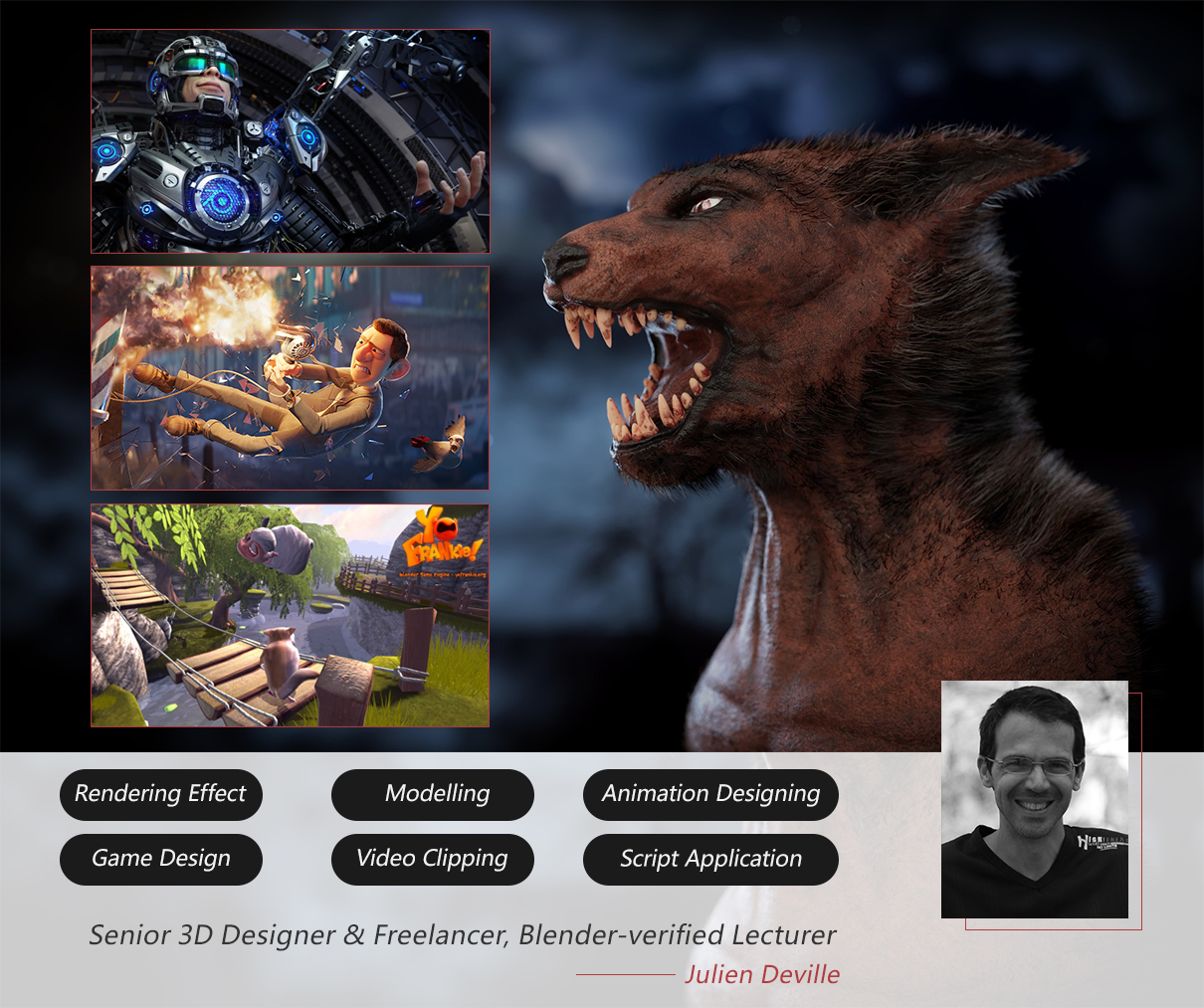 -01-
Blender: The Open-source, Cross-platform and Versatile 3D Software
Blender is an open-source, cross-platform and versatile software for 3D animation production, which offers a set of solutions to modelling, animation, materials, rendering, audio process, as well as video clipping and editing. Blender is compatible with multiple user interfaces that serve different purposes. Also, it is scripted with Python, supports plug-in Yafaray renderer and built-in game engines. Blender is designed for media practitioners and artists all around the world. As a tool for 3D visualization, Blender enjoys a variety of functions, most of which support high-ploy models to be shaped. Plus, the powerful shortcut keys sustained by the software enable you to work more efficiently.
Senior Artist's In-depth Analysis of Blender
This customized course for Blender is the third one of a training trilogy, which features the latest version of Blender 2.8 and lasts 8 hours in total. The instructor will give you a comprehensive introduction to under interface, operation techniques, modeling cases, baking, rendering and ambient lights effect. Beginners or moderate users can all benefit from the course!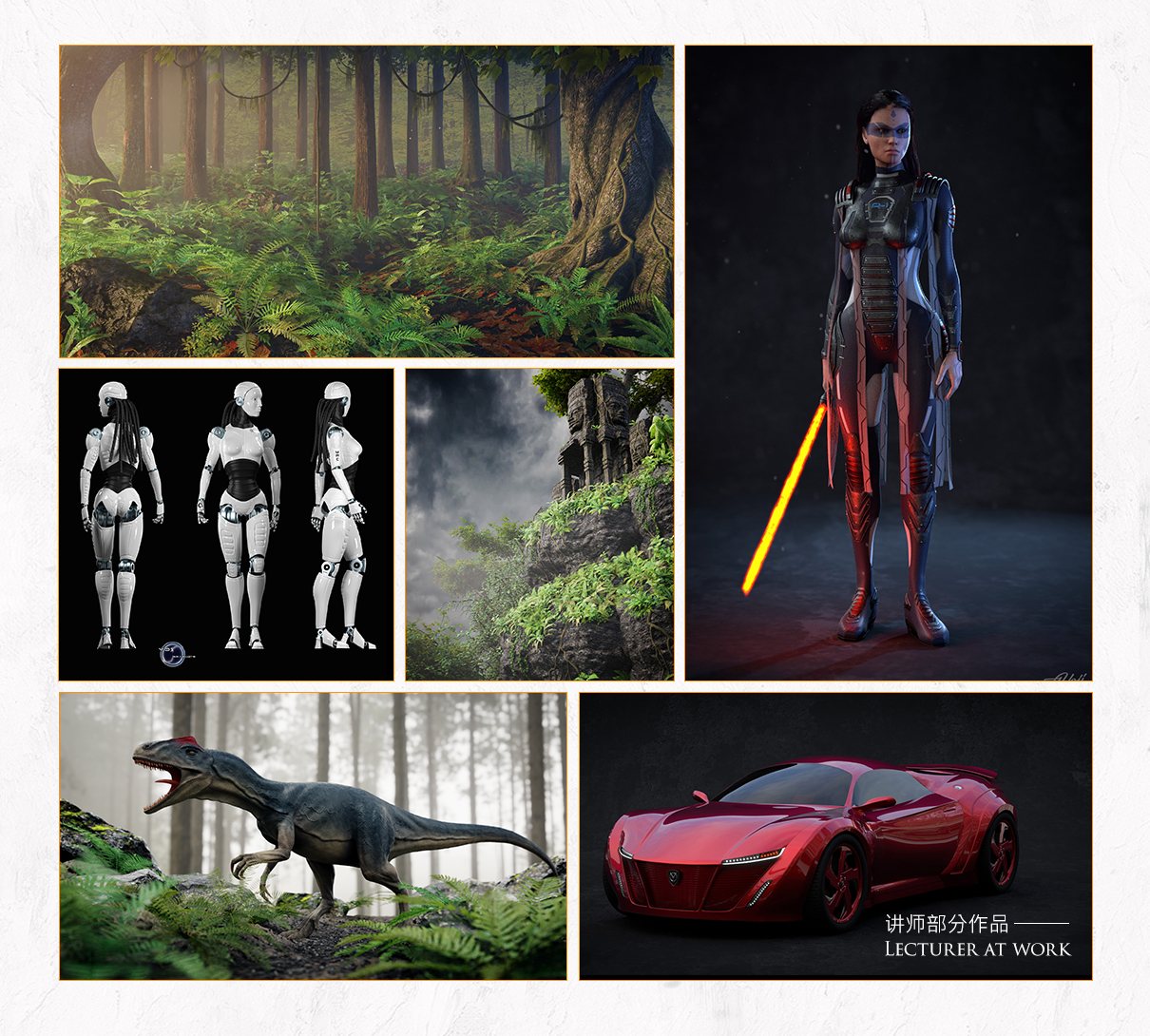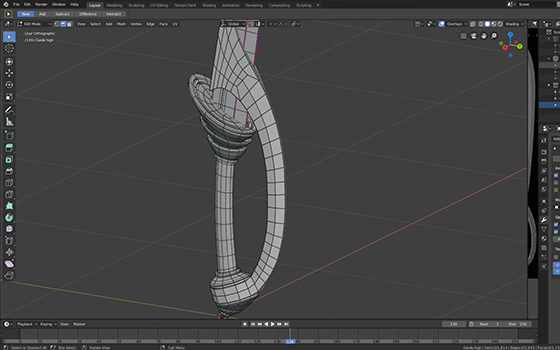 This part has a focus on how to achieve assets modelling in Blender. The instructor will show you how to model for sword handle, sword handle protector and sword blade, as well as things that you should pay attention to.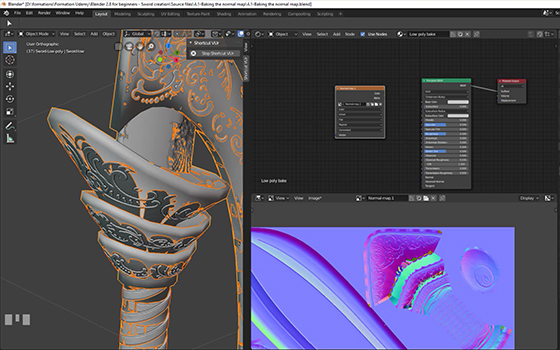 In this part, the instructor will explain how to bake normal maps. You will get know the project settings before baking, and things that need your attention. You will use maps to bring out different effects on parts of a sword, practicing skills of sculpturing high-poly models, projecting textures and applying materials.
Introduction to Rendering
▼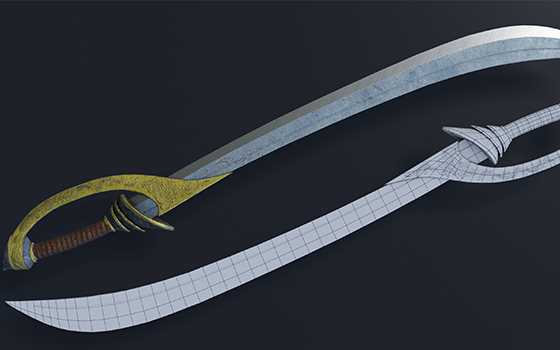 In this part, the instructor will explain how to create shaders for the sword. You will learn to create strong metal effect, and use a range of maps to bring out different ambient lights effect.
From Theoretical Concepts to Case Practice
While the 1st and the 2nd course already touch upon tools and command parameters in Blender, this course serves as the 3rd one to introduce the latest version Blender 2.8. This course starts with new features of a new user interface, a few changes in user operation and things to notice. Next, the instructor will use simple geometries to explain basic concepts such as modelling. After that, a case practice by the instructor will help you take a deeper look at how to achieve assets modelling and add details on parts of a sword.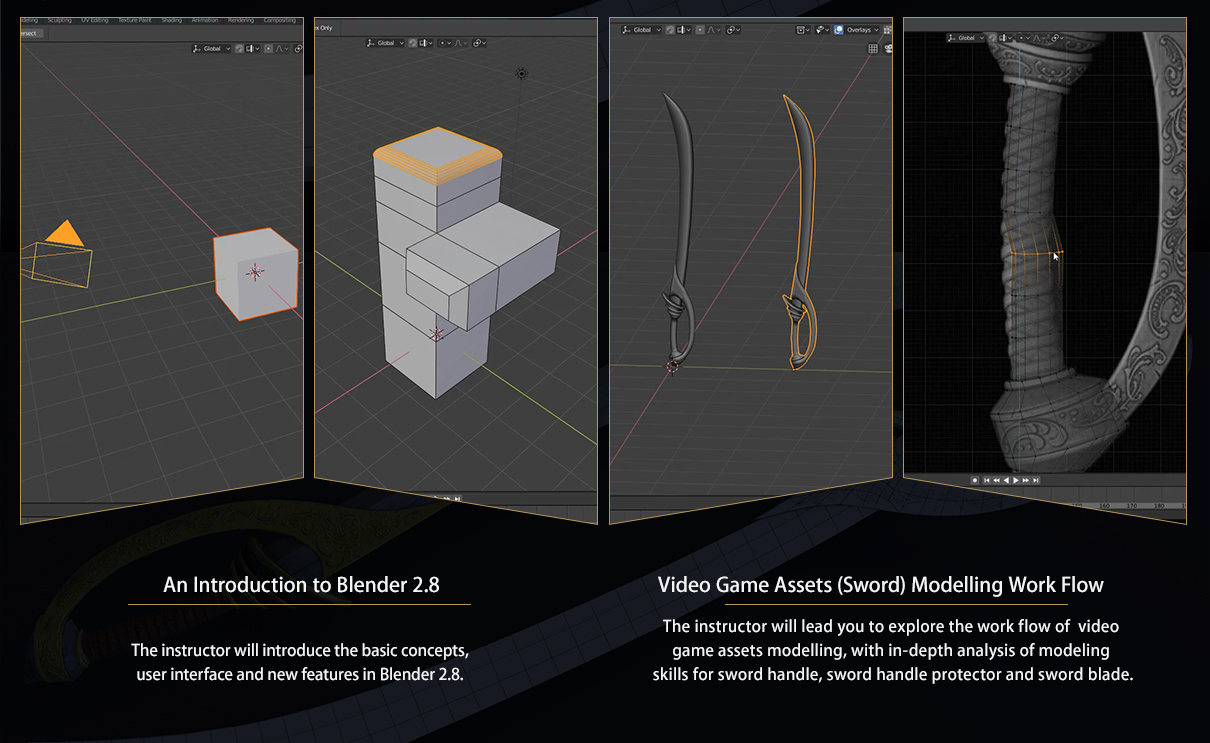 The course will show you the core work flow of processing a project. You will learn to make UV maps, bake maps, add patterns, sculpture details for high-poly models, render models and create ambient lights effect. By joining the sophisticated instructor, your Blender skills will be improved a lot.
Blender 2.8 for beginners Sword creation
Chapter 1 Lowpoly model creation
8.1-Unwrap Techniques
8.2-Edition of islands
8.3-Unwrap the mug
8.4-Unwrap the robot
8.5-Texture paint mode, tools presentation
8.6-Using an image texture as brush
8.7-Image projection in stencil mode
8.8-Using Line and Curve Strokes
8.9-Baking in cycles, use with the robot
Chapter 2 High Poly model creation
9.1-Sculpt mode presentation and interface configuration
9.2-Tools presentation
9.3-Multiresolution Modifier
9.4-Basic sculpture techniques
9.5-The liberty of dynamic topology
9.6-Timelapse Sculpture of a werewolf bust
9.7-Using textures for details
9.8-Retopology tools in Blender
9.9-Retopology of werewolf bust timelapse
13.Unwrap the low poly model
14.UV Islands edition
Chapter 4 Baking textures
15.Baking the normal map
16.Baking ambient occlusion map
17.Baking cavity map
18.Baking color map base
19.Adding details on cutting edge
20.Adding details on the grip
21.Adding patterns on the blade
22.Fixing baking problems
Chapter 6 Model presentation
23.Shader creation
24.Render image with cycles
25.Render image with eevee
26.Turnaround animation
Chapter 7 Export the model
27.Export .obj file
28.Import in Sketchfab
29.Import dans Unity
Chapter 8 Bonus Texturing avec Substance painter
30.Import the model
31.Layer system overview
32.Layer system management with brush
33.Layer system management with polygon fill
34.Layer system management with stencil
35.Export texture set and render in Blender
Blender 2.8 for beginners Sword creation
1080P HD tutorials + project files + Q & A Service (No Expiry Date)
Approximately 8h/ 36 tutorial videos
Blender Beginners, 3D Beginners, 3D Designers
Through this course What will you gain?
Construct a comprehensive framework of basic concepts, and familiarize yourself with the core work flow in Blender 2.8.




Acquire the skill of assets modelling.




Grasp the skill of map baking for models.




Learn to apply the advanced function in Blunder, such as sculpturing details, rendering models and setting lights.
Julien Deville comes from France and has been a 3D designer/freelancer and trainer since 6 years ago. 8 years ago, he self-learned Blender by reading electronic books and taking online courses. At present, he uses Blender in a majority of his running projects. He has spent half of his time teaching Blender to local companies that want to use the software, and to artists or professionals who want to improve their Blender proficiency.
Lecturer
Deville Julien
Blender-verified Lecturer