Notice: The course is continuously updated for about 400 lectures/ about 200 hours, with a preferential price of $59. After the course is updated, the original price will be restored to $119.
All the tutorials on our website are not available offline,
Facebook: Yiihuu Official Facebook | Irene | Alexa Xu | Alex Luo | Sian | Cloris

Content: HD videos+ Project files
Software: Zbrush 2019 or above, 3DS MAX 2015 or above, 3D unfold 9 or above, Substance Painter 2019 or above, Marmoset Toolbag 3
Assistant Softwears: Xnormal, Photoshop cc 2018 or above
System: No specific required
Project file: Starter Files, Textures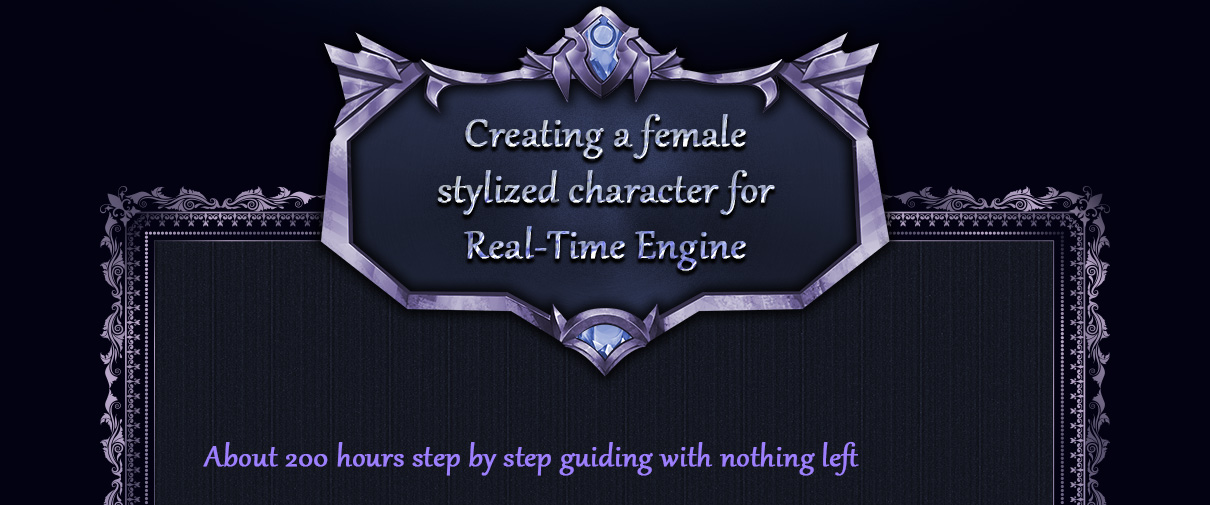 This is a stylized character creation workflow. This type of model differs from the realistic model. In this course, you will learn how to create realistic models and how you can transfer that model to a stylized one. The pipelines for both types are the same but you have to know how to make it. Eventually, you can have enough knowledge for creating both of them.

Character Artist

I was a 3d modeler for almost 7 years in architecture companies such as Agrin and A.k.NOVIN and BISTOON and several more and after that, I switch to the character modeling for almost 4 years and I work as a freelancer for several different Individuals and Toy Companies. I Always have a huge passion for the game and the process of making the model, especially characters for this purpose. I try my best to learn the process during the cooperation with those individuals.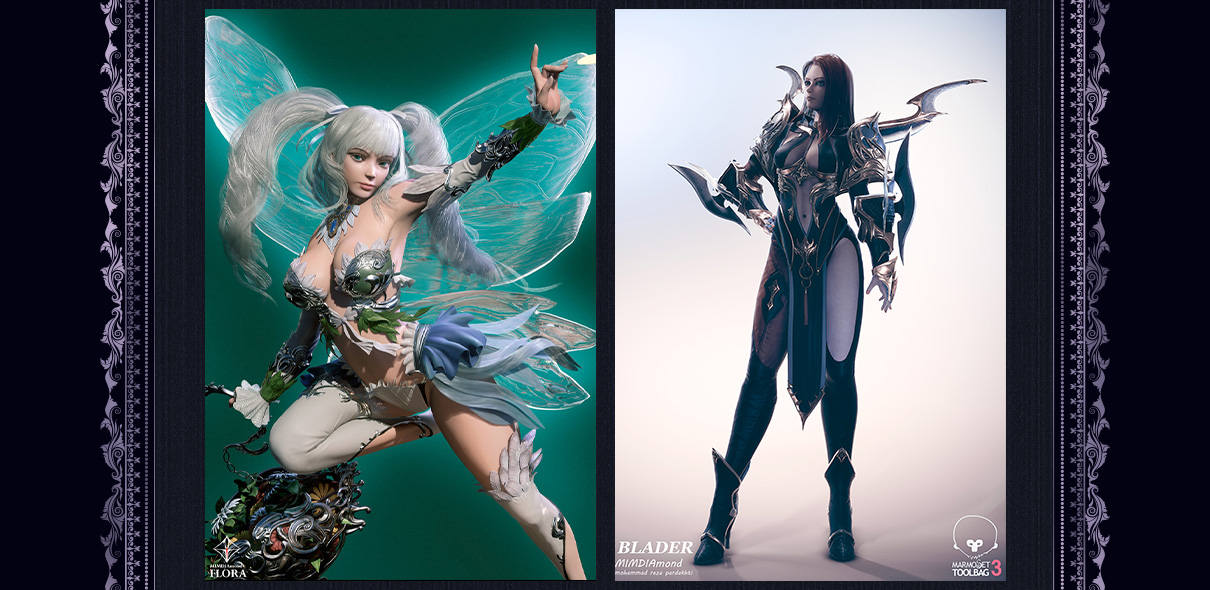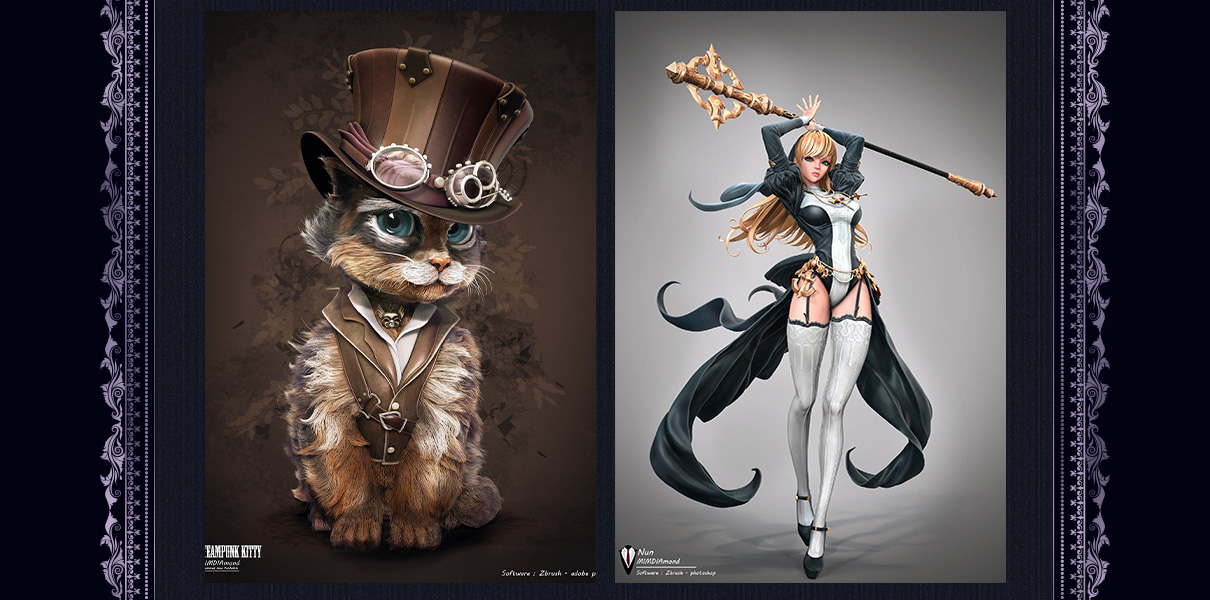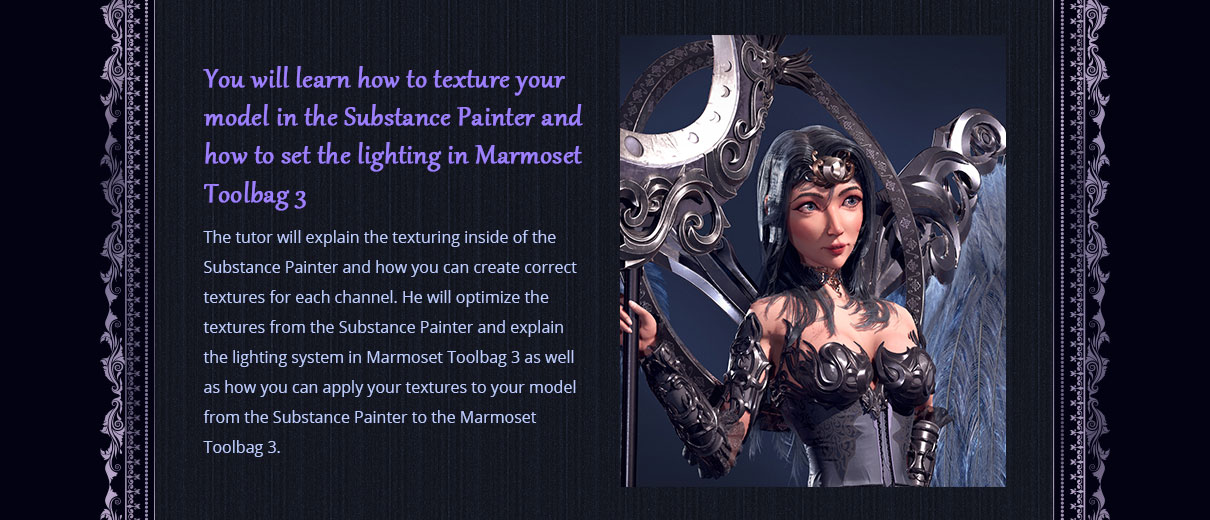 00. intro to zbrush
01. face sculpting
02. hands
03. feet sculpting
04. body sculpt
05. stylization the face
06. TOPOLOGY
07. UV For The Main CH
08. small detail
09. possing
10. skirt
11. corset
12. matching the skirts
13. corset detail
14. sleeves
15. Frill for the skirt
16. cloth edge Mid Part for the corset
17. small pattern
18. MID Lace
19. Small Flowers for mid part of the corset
20. second lace for the skirt
21. waistband on corset
22. stick's tip part 01
23. stick's tip part 02
24. Stick's Bottom part 01
25. Stick's Bottom part 02
26. meging all part of the stick
27. lowerarm details
28. Breast armor part 01
29. Breast armor part 02
30. Breast armor part 03
31. Breast armor part 04
32. clean the corset ornoment Part 01
33. clean the corset ornoment Part 02
34. clean the corset ornoment Part 03
35. neck's ornoment
36. upperarm's ornoment
37. shoes part 01
38. shoes part 02
39. shoes part 03
40. Tiara
41. wing part01
42. wing part02
43. wing part03
44. the Back symbol part 01
45. the Back symbol part 02
46. the Back symbol part 03
47. Corset Low Poly
48. skirt top garment low poly
49. skirt mid garment low poly
50. skirt lower garment low poly
51. cloth s frills low poly
52. Breast ornomet low poly
53. Spear's Blade low poly part 01
54. Spear's Base low poly
55. Wing's Base low poly
56. Wing's Tip low poly
57. lowerarm ornament low poly
58. upperarm ornament low poly
59. neck's oranment low poly
60. Tiara low poly
61. shoe low poly
62. corset'ornament low poly
63. symbol low poly
64. UV wing base
65. UV wing tip
66. UV Spear
67. UV symbol
68. UV Taira
69. UV Necklace
70. UV Upperarm
71. UV breast ornamant
72. UV Lowerarm
73. UV corset ornament
74. UV shoe
75. Baking assets
76. Baking BODY
77. TEXTURING ASSETS PART 1
78. TEXTURING ASSETS PART 2
79. TEXTURING ASSETS PART 3
80. TEXTURING ASSETS PART 4
81. TEXTURING BODY PART 1
82. TEXTURING BODY PART 2
83. TEXTURING BODY PART 3
84. TEXTURING BODY PART 4
85. FEATHERS Part 01
86. FEATHERS Part 02
87. FEATHERS Part 03
88. blockin the Hairs
89. Hair Fibers
90. hair card Brush
91. Hair Card Part 01
92. Hair Card Part 02
93. Hair Card Part 03
94. Hair Card Part 04
95. Hair Card Part 05
96. Eyebrows
97. Eyelash
98. preparing the model for the toolbag
99. Knowing the toolbag 3
100. setup the material in toolbag
101. render and composition