Notice:
All the tutorials on our website are not available offline,
Facebook: Yiihuu Official Facebook | Irene | Alexa Xu | Alex Luo | Sian | Cloris

Content: HD vidoes+ Project File
Software: Photoshop CC 2019, Autodesk Maya 2018 or above, Daz3D, RureRef
System: CPU- more than 6 cores, GPU-anything will do, RAM-16 GIG
Project file: Maya work files+ Photoshop files
In this course, it'll break down every step of the way, leaving nothing else. This course tackles the basics first, moving on to more advanced topics as the course progress. So, even beginners will be able to follow along. The course contains 27 hours of content. So, you can be sure that we will go in-depth on each topic. Within these 27 hours, we will also be creating a wide range of subjects, Like characters, environments, props, and vehicles. For this, you will also get all the work files, including Maya work files for each step, and Photoshop files with all the layers included.
Esbjorn Nord
Concept Artist

Esbjorn Nord has worked as a concept design in a number of well-known game companies such as DICE and Embark Studios. Some of his popular works include《Star War》and《Battle Field》series. He has many years of concept design experience in the film and game field and has an unique understanding of concept design workflow, 3D design, mood, light and shadow expression.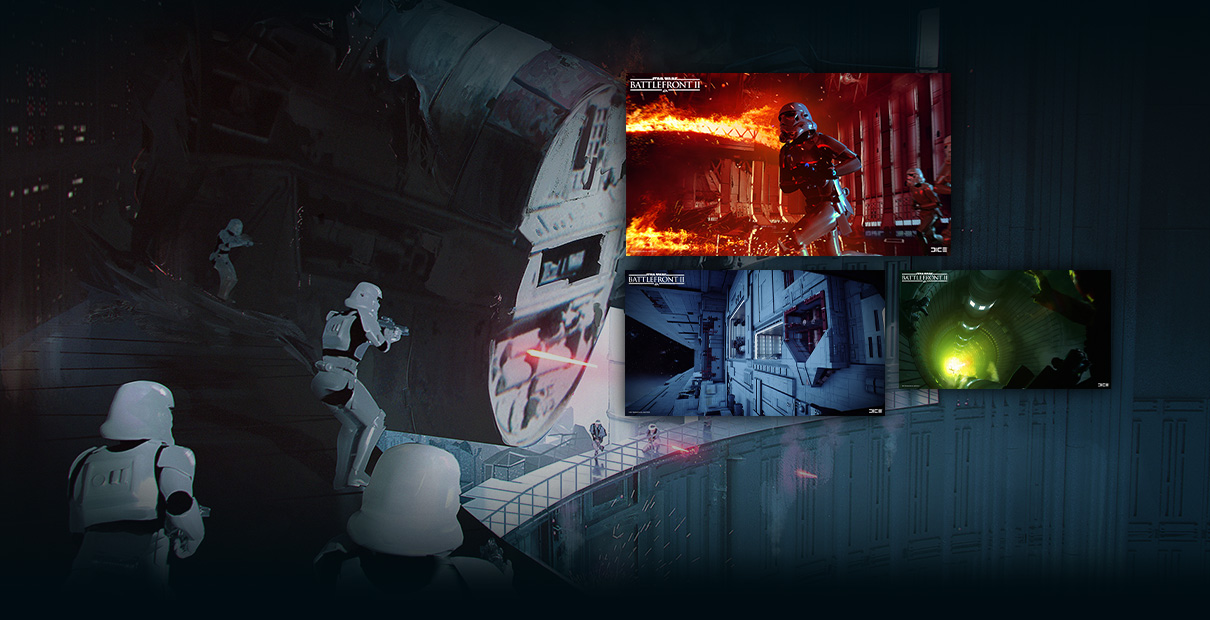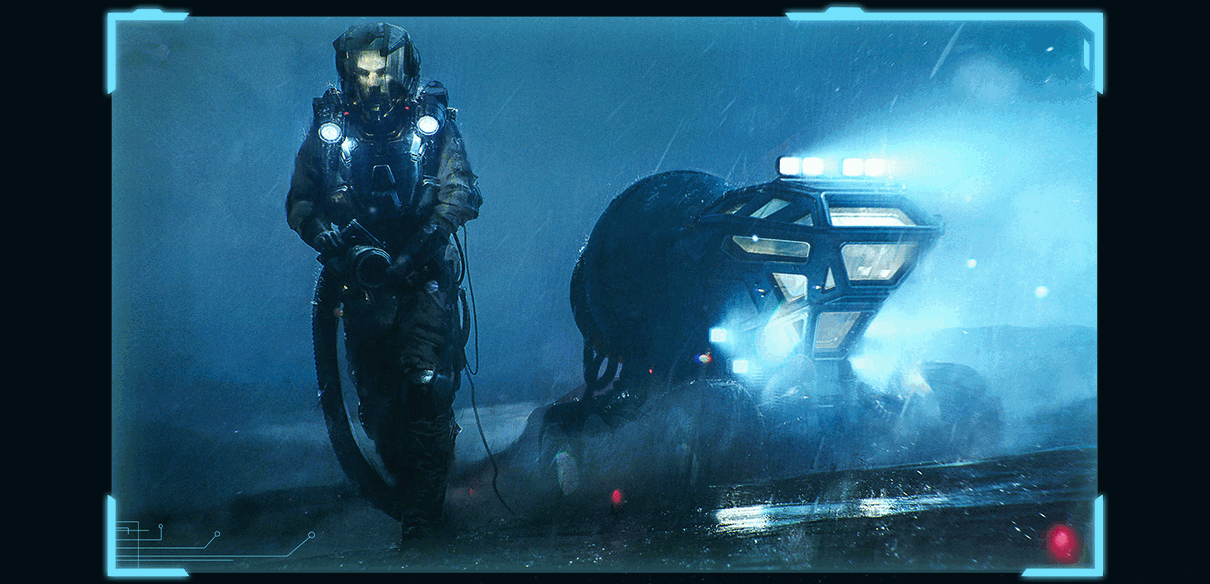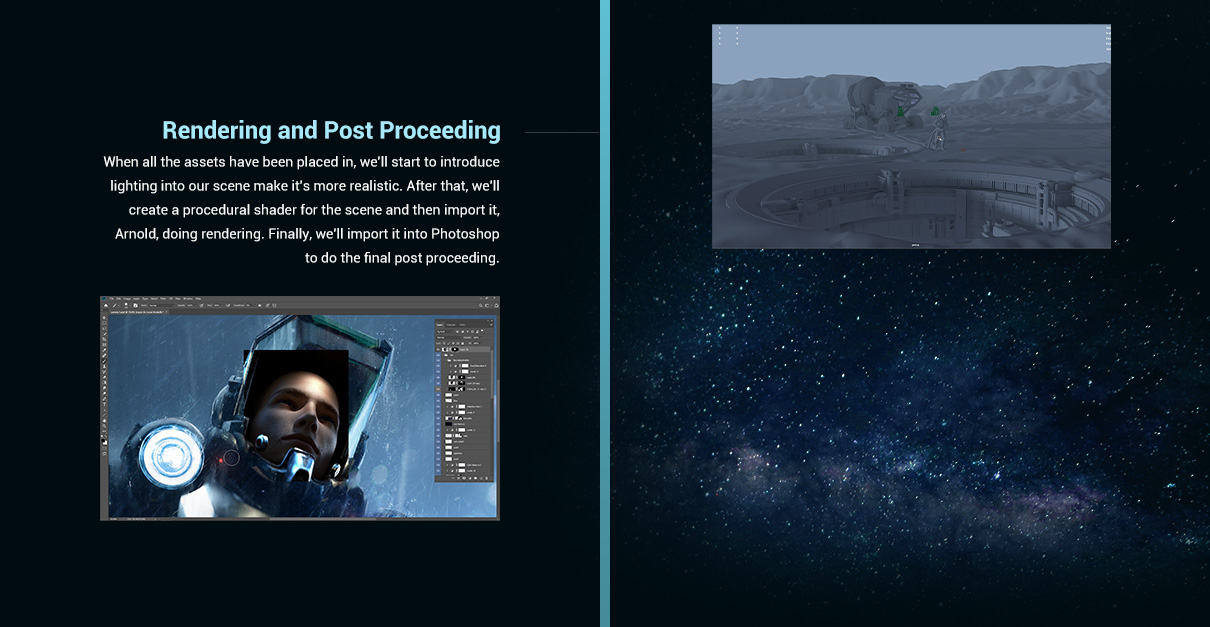 Pt.1-Introduction
1. Introduction
Pt.2 - Choosing a renderer
2. Choosing a renderer
Pt.3 - Finding inspiration
3. Finding inspiration
Pt.4 - Creating the sketch
4. Creating the sketch-1
5. Creating the sketch-2
Pt.5 - Creating the blockout
6.Creating the blockout-1
7.Creating the blockout-2
8.Creating the blockout-3
Pt.6 - Finding a composition
6.Creating the blockout-1
9.Finding a composition-1
10.Finding a composition-2
Pt.7 - Finding References
11. Finding references-1
12. Finding references-2
Pt.8 - Creating the assets
13. Introduction to Modeling-1
14. Introduction to Modeling-2
15. Introduction to Modeling-3
16.Introduction to design
17.Installing scripts
18.Creating the vehicle - blockout
19.Creating the vehicle - breaking up the shapes
20.Creating the vehicle - defining the shapes
21.Creating the vehicle - working on the second layer of detail
22.Creating the vehicle - Finishing the blockout
23.Creating the vehicle - Defing the shapes further
24.Creating the vehicle - Creating the Tires
25.Creating the vehicle - Creating the Suspention
26.Creating the vehicle - Finishing the Suspention
27.Creating the vehicle - Working on the cockpit
28.Creating the vehicle - Finishing the cockpit
29.Creating the vehicle - Defining the middle section
30.Creating the vehicle - Creating the pipes
31.Creating the vehicle - Finishing the vehicle
32.Creating the Character - Posing in Daz
33.Creating the Character - Blocking out the shapes
34.Creating the Character - Defining the hard shapes
35.Creating the Character - Creating the clothing
36.Creating the Character - Creating the boots
37.Creating the Character - Working on the hardsurface parts
38.Creating the Character -Refining the chest piece
39.Creating the Character -Adding the final details
40.Creating the Character -Getting the character in pose
41.Creating the props -blocking out the pipes
42.Creating the props - Adding detail to the pipes
43.Creating the props - Adding finer details
44.Creating the props - Finalizing the pipe
Pt.9 - Assembling the Scene
45.Assembling the scene -importing the objects
46.Assembling the scene -Creating the landscape
47.Assembling the scene -Finalizing the scene
Pt.10 - Lighting The Scene
48.Lighting The Scene - Creating the light setup
49.Lighting The Scene - Creating mesh lights
50.Lighting The Scene - Creating an atmosphere
Pt.11 - Intro to creating procedural shaders
51.Intro to creating procedural shaders
Pt.12 -Creating procedural shaders
52.Creating procedural shaders - Creating the skin shader
53.Creating procedural shaders - Shading the eyelids and eyeballs
54.Creating procedural shaders- Shading the visor
55.Creating procedural shaders- Using displacement
56.Creating procedural shaders- Shading the suit.
57.Creating procedural shaders- Blending Materials -1
58.Creating procedural shaders- Blending Materials -2
59.Creating procedural shaders- Shading the cloth
60.Creating procedural shaders- Shading the terrain
61.Creating procedural shaders- Adding puddles
62.Creating procedural shaders- Creating a dripping effect
63.Creating procedural shaders- Creating large variations
64.Creating procedural shaders- Creating shader variations
65.Creating procedural shaders- Creating deep water
Pt.13 - Rendering the Image
66. Rendering the image - Arnold Render Settings
67.Rendering the image - Doing line art renders
68.Rendering the image - Rendering the images
Pt.14 - Post process in Photoshop
69.Post process in photoshop - preparing the image
70.Post process in photoshop - setting up grayscale
71.Post process in photoshop - importing photos
72.Post process in photoshop - creating the sky
73.Post process in photoshop - adding rain
74.Post process in photoshop - Polishing the face
75.Post process in photoshop - Adding bloom
76.Post process in photoshop - Finalizing the image
77.Post process in photoshop - Creating fog
78.Post process in photoshop - Photobashing
79.Post process in photoshop - working on the sky
80.Post process in photoshop - adding smoke
81.Post process in photoshop - adding rain
82.Post process in photoshop - balancing the image
83.Post process in photoshop - finalizing the character
84.Post process in photoshop - painting
85.Post process in photoshop - finalizing the image
86.Outro